hey Friends,
Welcome to the start of my Blog's First Birthday Celebration. A year ago I started this blog because to be honest I was bored. Being a stay at home mom of a infant who sleeps all day was starting to get to me and I needed to do something to entertain myself.
Never in a million years would I think that it would turn into what it has today, with my challenges, design team and so much more. Blogging has opened a whole world of just learning for me, from new techniques that helped me create in a new way, as well as showing me new products and tools to take my budding creativity to a new level.
Today's Blog hop is "Inspired by Cristina" i thought it would be great to see how one person's creativity could inspire another. I have enlisted the help of some wonderful papercrafters who I am proud to call my friends. It is through the blogging world where I have come to make such fantastic and loving friends who not only provide me inspiration but their friendship as well.
For my project I decided to create an altered shoe box to store all of the wonderful cards I have received from my papercrafting friends.
I started off with a Nike Shoe Box (Toddler Size) and basically unfolded the box. The Nike boxs are nice because the top and the base of the shoe box are all one piece. I then went ahead and painted over the box a few layers with Apple Barrel white Acrylic Paint, ts until the orange box was 100% covered. I let that dry.
I then cut out some Carolyn Gavin Greenhouse papers and covered my box with them. I kind of eyeballed the sizes of the sizes. cutting down until it was about the size where I wanted it
I took some Olive Green Cardstock and cut it into 1.5 inch strips then punched it with my Fiskars Apron Lace border punch and put that on the edge of the lid portion of the box.
The felt Ric rac border is from recollections. I used my hot glue gun to adhere it onto the box, then I used added some clear dew drops to the felt with my hot glue gun as well.
For the top of the card. The Tag shape is from Lettering Delights Basic Tags SVG set ( I used tag 6) i created a shadow of that in craft.
The word cards is cut using the Too Much Paper font, (it's a freebie
here
) I created a shadow of that in craft paper as well.
I added buttons, Twine (in bubble gun pink and Olive green) as well as some Buttons. Finished the top of the box with some prima flowers, and that's pretty much it.
I couldn't make a too elaborate project for the hop because i'm still very very sick with pneumonia and sitting up for too long is really hard for me.
For blog candy.
I am giving away one Surebonder Mini Hot Glue Gun with Surebonder Hot Glue Sticks.
All you have to do is make sure you are a follower and leave a comment on this post
make sure you hop along and visit all of the other talented chicas on this fun hop
Cristina (that's me!)
Amanda
http://www.myscrappinobsession.com/
Christina B
http://www.cardcreationsbyc.blogspot.com/
Corri
http://buglvr.blogspot.com/
Ellen
http://www.lifeatwalnuthill.blogspot.com/
Elsa
http://cricutlvr.blogspot.com/
Erin
http://www.spantastikreations.blogspot.com/
Joanna
http://www.scrap-making.blogspot.com/
Kristi
http://www.littlepapersprinkles.blogspot.com/
Laura
http://www.makinprettythings.com/
Lauren
http://www.laurenscreative.com/
Lezlye
http://www.lezlyes.blogspot.com/
Liz
http://www.lizspaperloft.com/
Mel
http://www.scrappymel.blogspot.com/
Paula
http://www.morethanfavors.blogspot.com/
Sarah
http://www.liveloveandscrap.blogspot.com/
Tammy
http://www.scrappycritters.blogspot.com/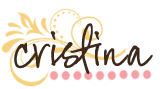 Shop Lettering Delights