hey Friends,
Sorry I have been awol for a little bit. Turns out all of this hot cold hot cold weather we have been getting here in Buffalo ny Finally Got to me. And I'm stuck sick for the past 4 days with a horrible case of Pnemonia and Congestion.
Don't worry I'm on some medication and hopefully will start feeling better soon, but until then I have hardly any time to do ANYTHING.
In the meantime I wanted to let you know that my Blogaversry week was originally scheduled to be starting on the 17th and ending the 23rd with a Inspired by Cristina Blog Hop.
I will still be having the blog hop on April 23rd but instead of it ending my blog week it will be the beginning, with the daily prizes and giveaways from
Peachy keen Stamps
Lettering Delights
Scrappy Moms Stamps
E.A. D Designs
Timeless twine
.. and so much more.
You dont want to miss this.
So mark your calendars I will be starting on Monday the 25th for my Blogaversy week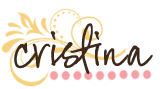 Shop Lettering Delights