Hey,
Today I'm showing you this cute project i made over the weekend. I was inspired by (
this post
).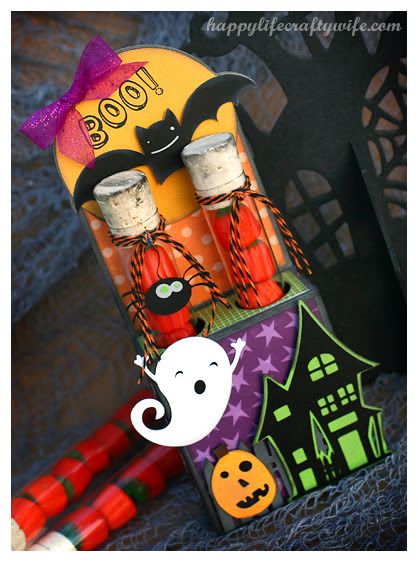 Tamara
had made a really cute test tube holder, and has a free svg to make something similar. I of course had no plastic test tubes or halloween candy, nor did I want to make that investment then wait for shipping (yuck). So I decided to go with some cake pops. I altered the svg file to make 3- 1/4 inch holes intead of where the test tubes are..
This is what I came up with
I pretty much am in love with adorable project. I used the
Lettering Delights Sew Spooky Stitchy Cut It Set
To make this adorable project. I used my Peachy Keen Stamps Monster faces along with the Pumpkin Faces for them as well too. Pretty much all the paper is From Recollections
The stamp is from the Latest
Scrappy Moms Stamps
Set Bewitched it says "Friends like you are a real treat"
The Lettering Delights Sew Stitchy is pretty much my favorite SVG SET right now. And they have it for basically every season already too. Here a glance at the adorable
Sew Spooky Stitchy
Halloween set I used for my project
Or if you want ALOT for not alot of money Check out
this bundle.
The best thing about the new
Sew Stitchy Cut Its Bundle
is that it is currently ON SALE!! The 8-set collection is only $20!
CLICK HERE to get your bundle now and don't forget to use your coupon. If you don't have a coupon, no worries, just click HERE to get the most recent Friday Freebie and after you have checked out, you can find your 25% off coupon in your email confirmation. You can also use the code JinsTreat to take $5 off $25.